Gazprom pipelines and export capacity

Газопроводы Газпрома и экспортные мощности

---
South Stream Gas Pipeline Project
---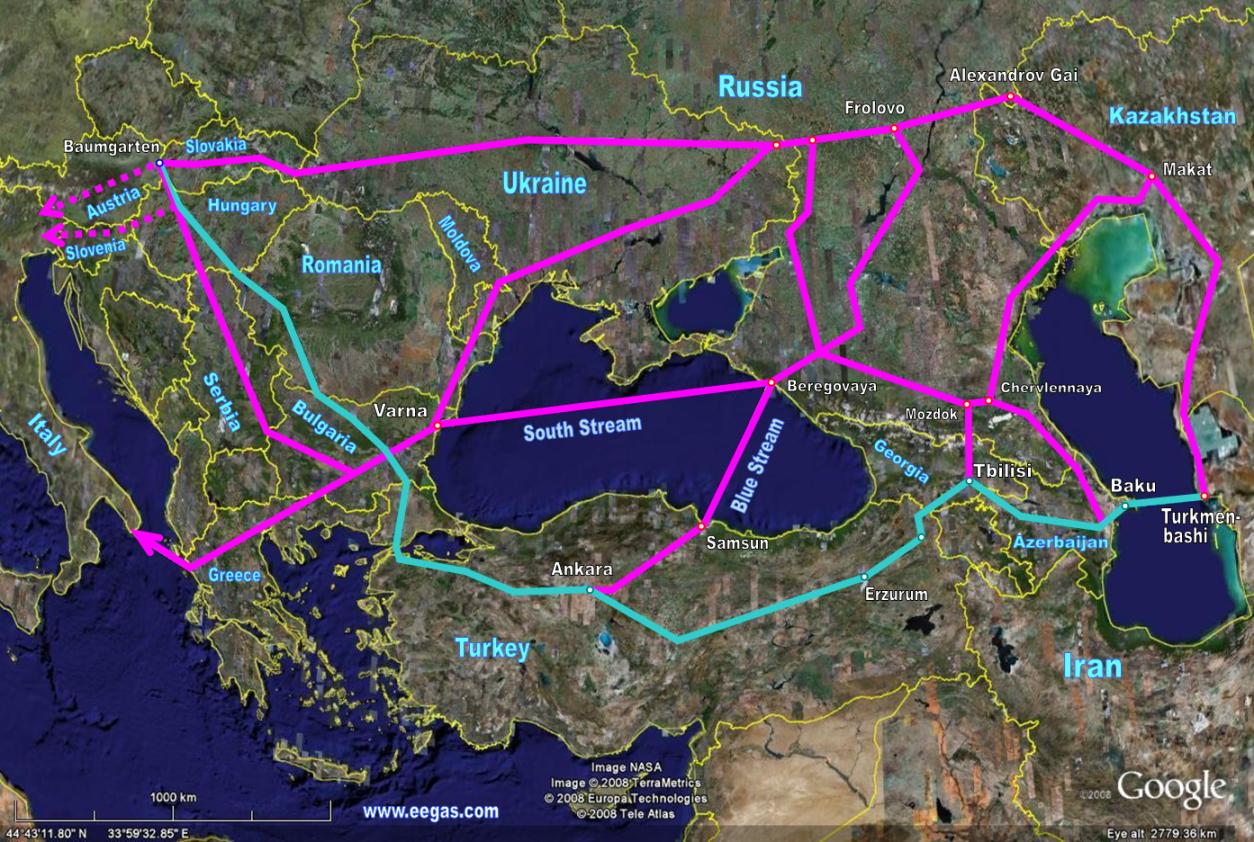 Sources: Gazprom, Nabucco, BP, East European Gas Analysis
South Stream Project Specs

Length of pipelines:

- submarine sections in the Black Sea and Adriatic Sea

~1000 km

- land sections out of the Russian Federation

~2700 km

- total

~3700 km

30 bcm/y

$ 20 bn

Distance to the pipeline inlet:

- from Urengoy (via Polyanskaya, Petrovsk and Frolovo)

4070 km

- from the Shah Deniz gas field, Azerbaijan

~1350 km

- from Turkmen border (via Caspian pipeline and Frolovo)

3081 km

Distance to Baumgarten, Austria:

- from the border of Azerbaijan

~3350 km

- from Turkmen border

~5400 km

Caspian Pipeline Specs:

Length (from Turkmen gas fields to Aleksandrov Gai)

~1700 km

Length (from the Turkmen border to Aleksandrov Gai)

~1200 km

Estimated cost

$ 8 bn
Nabucco Project Specs

Length of pipelines

3300 km

31 bcm/y

$ 12.3 bn

Distance to the pipeline inlet (Turkish border):

- from the Shah Deniz gas field, Azerbaijan

780 km

- from the Turkmen gas fields

1287 km

Distance to Baumgarten, Austria:

- from the border of Azerbaijan

~3250 km

- from the Caspian shore of Turkmenistan

~3990 km

Trans-Caspian Pipeline Specs:

Length

~210 km

Estimated cost

$ 1.0 bn

Length

690 km

Maximum capacity

20 bcm/y

Investment cost (as of June 1, 2006)

$ 1.3 bn

Commissioning year

2006
Key Conclusions
The South Stream project and the Caspian pipeline require the total investment of over $28 billion. It is twice higher than the combined cost of the Trans-Caspian pipeline and the Nabucco project.

The pipeline route from Turkmen capital to Baumgarten via Russia and South Stream is 1100-km longer than the route via the Caspian Sea and Turkey.

Transportation cost of gas from the Turkmen border to Europe via Russia and South Stream will be much higher than that via the Trans-Caspian pipeline and Nabucco.

Exports of Turkmen gas via Turkey can generate much higher profits than sales of gas to Gazprom or direct exports via Russia and South Stream.

The transportation distance from Shah Deniz to Baumgarten for both routes is roughly equal, though the route via Russia and the South Stream pipeline is more expensive because of the higher investment cost of Gazprom's project.

It is worth noting that the Dagestan section of the Mozdok-Kazimagomed pipeline linking Russia and Azerbaijan is one of the least reliable pipelines of Gazprom.
Mikhail Korchemkin
July 31, 2008