According to Alexander Medvedev, Gazprom forecasts the average gas price for the 2015/2016 winter at €195.9 per thousand cubic meters (mcm). Today it means about $222/mcm, though Gazprom is likely to use its own corporate exchange rate for Q4-2015 and Q1-2016.
In Q1-2015, Gazprom reported the average price of exports out of the former Soviet Union at $284.2 and in Q2-2015 at $255.6. Gazprom is very likely to report the average export price below $222/mcm in Q3-2015 and below $200/mcm in Q4-2015.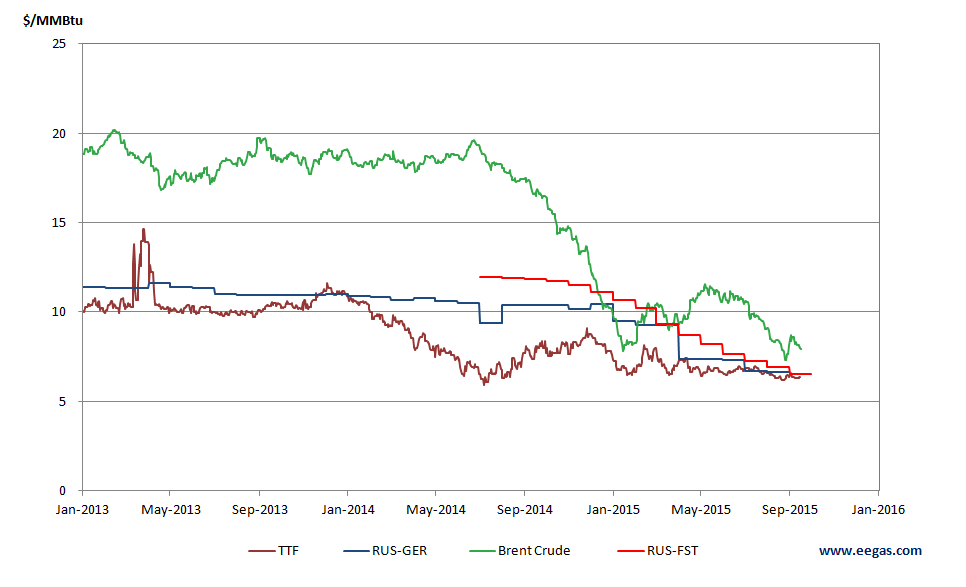 IMF estimates the Russian Natural Gas border price in Germany in August 2015 at $6.66/MMBtu or $213/mcm. The Federal Tariff Service (FST) index for September 2015 stands at $6.54/MMBtu or $209/mcm. On September 15, the TTF price was reported at $6.35/MMBtu or $203/mcm (according to the official conversion factors used in the IFRS reports of Gazprom). There is no sign of growth capable to affect oil- or spot-indexed price of Russian gas yet.
The average winter price may be equal to €195.9 if Euro drops some 13% against U.S. Dollar.
Mikhail Korchemkin
East European Gas Analysis
Malvern, PA, USA
September 16, 2015
Reproduction or use of materials is allowed only with reference to East European Gas Analysis or www.eegas.com